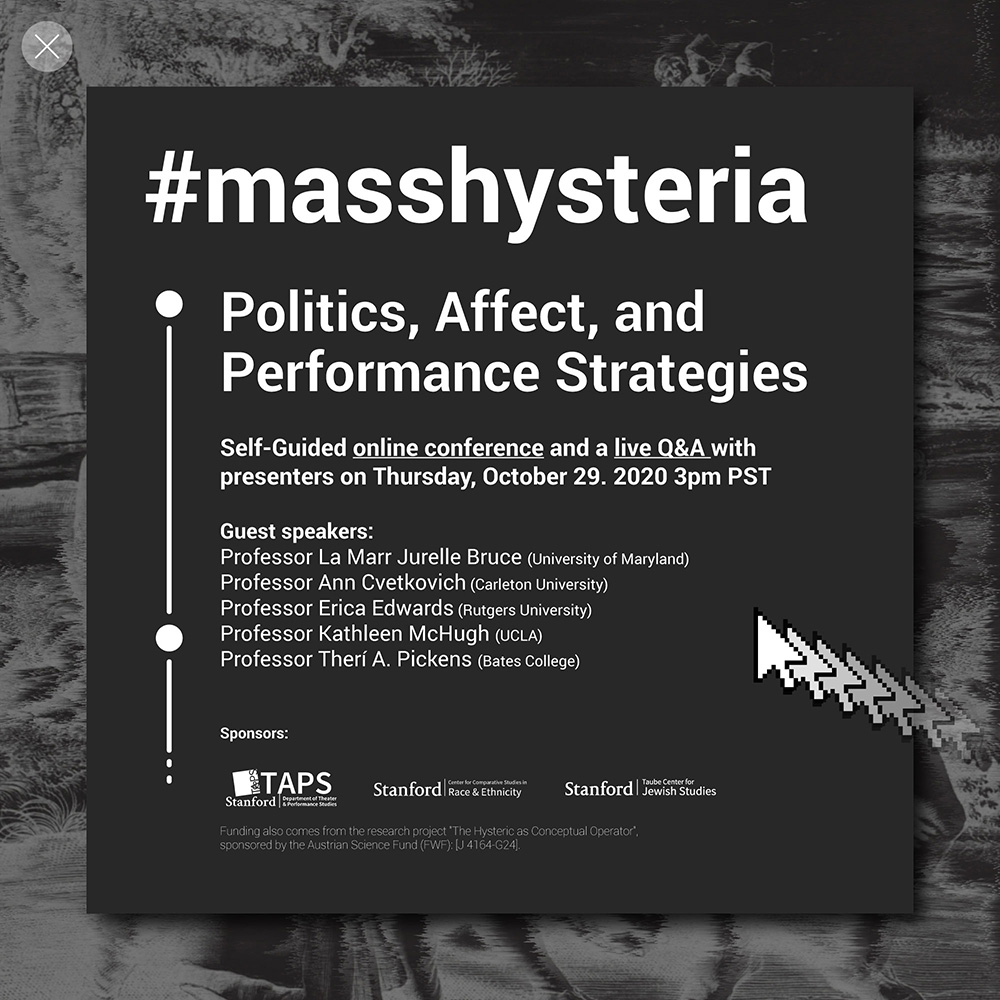 #masshysteria
Politics, Affect, and Performance Strategies
Self-Guided online conference and a live Q&A with presenters on Thursday, October 28. 2020 3pm PST

Is this a new age of HYSTERIA?  In the United States and around the globe––it appears that there is an epidemic of hysteria. In response to new iterations and uses of hysteria, this conference seeks to understand these timely convulsions of hysteria, politics and performance strategies in the light of the upcoming presidential election in fall 2020 that already promises an intensification of hysterical discourse. Although the history and evolution of the representation of hysteria have been extensively researched, the study of how these discourses have been transferred to twenty-first-century cultural, sexual and racial productions is still uncharted territory. Whereas hysteria studies have been favoring the "singular" hysteric, this project is dedicated to bridging the research gap from the individual to the collective hysterical body in current public discussions––on such pressing topics as the Black Lives Matter protests, the COVID-19 pandemic, the Women's March, or climate change, among many other––that evidently changes previously established notions of class, race and gender around the representation of hysteria. So too, critical race and sexuality studies will be discussed in terms that can address, for example, white supremacy as a form of hysteria.

Furthermore, as a result of performance studies being a paradigm-driven field, this conference invites discussions on hysteria's performance as object of inquiry and on performance studies as a primary analytical concept.

Guest speakers: Professor La Marr Jurelle Bruce (University of Maryland), Professor Ann Cvetkovich (Carleton University), Professor Erica Edwards (Rutgers University), Professor Kathleen McHugh (UCLA) and Professor Therí A. Pickens (Bates College).
Please find the video presentations at #conference


Sponsors:
Stanford Hosts:
University Department of Theater and Performance Studies  
The Center for Comparative Studies in Race & Ethnicity
Stanford's Taube Center for Jewish Studies.  
This event is part of the research project "The Hysteric as Conceptual Operator", sponsored by the Austrian Science Fund (FWF): [J 4164-G24].

Please register here for the live Q&A with presenters on Thursday, October 28. 2020 3pm PST:
https://stanford.zoom.us/webinar/register/WN_H_6Ba7yFRF6z5sD-8d5-Eg